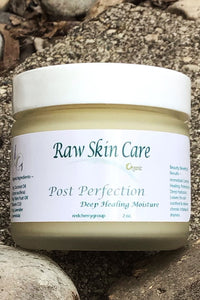 Raw Skin Care
Post Perfect 2 oz. Retail
Regular price
$20.00
$0.00
Unit price
per
Post Perfect Healing Moisture Balm 2oz. has become the most versatile balm that replaces all creams for healing very sensitive and dry skins to cosmeceutical treated and abrasively burned and skins in trauma.
First used by many Medical and Day Spa Professionals, for its deeply soothing and intensely healing ingredients to relieve and refresh, while helping to rebuild back skin texture. It allows the cells to rejuvenate from Medical Spa laser, Microdermabrasion,  and Deep Peels Treatments with the addition of soothing skin from home care-daily application of topical peeling agents (like Renova, Glycolic and all Alpha Hydroxy Acids) and Day Spa Microdermabrasion, peels and waxing.
It's also the perfect post balm for injectable fillers for molding and finishing with hydration and perfect for Botox type injections, along with Raw Skin Care Calendula Hydrosol, for anti- bacterial refreshment to soothe areas of treatment.
Secondly use for it's beyond perfect comfort and supplement hydration for dry to very dry skin. Dry skin can be sensitive from lack of attention, the right home care and change in weather or environment.
Post Perfect Healing Moisture Balm 2oz. is Highly Recommended for every skin exposed to sports environments, super dryness due to dry climates and environmental changes including Rosacea, Eczema, Psoriasis and Chemical Reaction Trauma.
With its benefits: Omegas 3, 6, 9, Vitamins and antioxidants, plus healing, and soothing properties the results leave the skin refreshed, soft, balanced and less inflamed looking.
How to use:
For those who need an treatment night creme for added moisture from the days dehydration use daily as the perfect Night creme. For those with dry and chronic challenged skin (Rosacea, Eczema and Psoriasis)  use twice a day especially where inflammation and chronic flakiness appears. Apply on clean toned skin like normal by dotting on Cheeks, Forehead and Chin with gentle massage to spread evenly. A small amount is all you need.  
NOTE: look at our collections to help balance your skin to health.
Perfect Comfort is for those with dry skin and simply sensitive sometimes  needing an extra night treatment or when the weather demands a little more.
Golden Nourishment is for Normal to Dry skins that want Anti-aging and Vitamin and Omega Nutrients. This skin doesn't get sensitive but can get a little flaky with weather changes.
Purely Bare is for super sensitive with high inflammation. A must for Adult Acne and Chronic sensitivity and Post Perfect aids in calming the skin and reducing redness when needed. 
Emerald Organic AHA is great for anti-aging and Post Perfect or Face C are the perfect night balms to heal after exfoliation at night.
Full Ingredients:
Org. Coconut Oil (Cocos nucifera), Org. Palm Fruit Oil (Stearin C52), Org. Lavender (Lavendula)
We love the principals of super organic power for healing and maintaining growing beauty with no toxins, petroleum and synthetic stuff we can not pronounce.
---
Share this Product
---