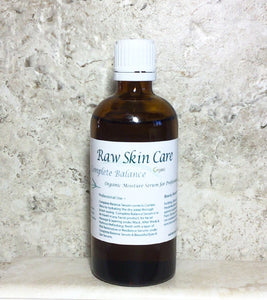 Raw Skin Care
Complete Balance Step 5 Pro Serum (Moisture) 4oz.
Regular price
$62.00
$0.00
Unit price
per
Complete Balance Organic Serum is purifying protective moisture. Perfectly formulated to balance combination and oily skin. These skins can have a t-zone shine and active oil spots and occasional breakouts and dry and even flaky areas. Often a night crème during the winter's most coldest days can be wonderful for those that are very impacted by the hint of dryness and congestion. Post Perfection Balm is pure anti-inflammation and purifying with organic lavender, coconut and palm fruit butter,

Complete Balance Organic 1oz. Serum properties are complex and gets its great balance from Ayurveda Healing. Its properties include: purification, anti-inflammation, high anti-aging phenols (wrinkle busters), anti-stress, astringent strength and balancing.
Experience: See a difference from the botanic formula of visible balance. The more the client use it, the quicker their skin will heal,  feel more in control, will become less stressed and naturally strengthen. This is anti-aging for the oiliest to dry triggered skins = combination skin. 
Full Ingredients: Organic Sunflower (Helianthus annuus), Organic Golden Jojoba (Simmondsia chinensis), Organic Extra Virgin Olive Oil (Cocos nucifera), Organic Lavender (Lavendula)
We formulate for ease of beauty and simplicity for results.
This Serum has No fragrance, color, toxins or synthetics, it has just Pure Essential Plant Offerings.
---
Share this Product
---