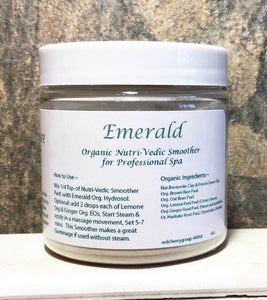 Raw Skin Care
Emerald Organic Step 2 Pro Nutri-Vedic Smoother and Gommage Mask
Regular price
$19.50
$0.00
Unit price
per
Emerald Organic Nutri-Vedic Smoother and Gommage Mask is a multi functional mask that is formulated as a Smoother (Manual Scrub) and a wonderful Mask Gommage. Its herbal ingredients are Ayurvedic for Strength and Longevity. 

Emerald Organic AHA System is different. We designed the Smoother with an option of a Gommage for the purpose to remove the already dead skin cell surface and soften a more callous layer of cells and the eliminate loosened debris.

This wonderful smoother can be used in any Facial when the benefits apply. After this  step then Steam and go straight into the application of the Aha Serum The deeper exfoliation is immediately more effective.

EMERALD Nutri-Vedic Smoother:
This mix of Vedic herbs, plant brans, flours and clays that work to gently exfoliate while stimulating circulation, & preparing the skin for the AHA Peel. The stimulation of circulation assists in collagen production & enhanced cell turnover.  The herbs help to prevent breakouts, have anti-oxidant action & deep cleanses. 
Full organic Herbal Ingredients:
Brown Rice - exfoliates, soothes, enzymatic properties, Oat Bran Flour - Soothes & reduces irritation, Kaolin White Clay - Cleanses, exfoliates, stimulates circulation, lifts, firms & anti-aging, French Green Clay - Detoxifies, absorbs impurities & excess oils, anti-inflammatory & toning, Lemon Peel Powder - Highly Anti-oxidant & loaded with Vitamin C, Ginger Root Powder - Warms, detoxifier, super cleansing, Haritake Powder - Detoxifies, nourishes & rejuvenates skin.
The purpose for dry masks and smoothers:
Freshness and Elimination of Cross Contamination
Eliminating Toxic and Inert Chemicals and Preservatives
No Color or fragrance
Ability to have high quality Herbs and Clays without compromise. 
Our dry smoothers and masks can be customized with the Collection's Hydrosol or another of Our Hydrosols toner and a chosen Amrit Organic oil. You will love the ease and performance.
---
Share this Product
---