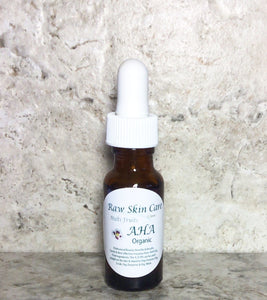 Raw Skin Care
Multi-Fruit Organic AHA Exfoliant
Regular price
$35.00
$0.00
Unit price
per
"Raw Skin Care" offers Two Organic Multi Fruit Professional Exfoliating liquid products. Both with their vital components to be active while gently releasing all the great benefits of the perfect exfoliation.
 Raw Skin Care Organic Liquid Multi-Fruit Exfoliants are made by extraction with organic grain alcohol and de-ionized water for natural plant extraction. Our Organic Grain Alcohol is part of the distillation of fruit processing and enhances the component properties of active energy, antiseptic purification and whole fruit tincture stability. They are for external use only and do not have an aroma, making them perfect for blending with our  "Natural and Organic "Fruit Enzyme Powders".
Organic Multi-Fruit AHA Exfoliant is water soluble, which maximizes the stimulation of cell renewal, while minimizing irritation associated with the use of topical synthetic chemical alpha hydroxy acids (AHA) to loosen the top layer of dead cells (primarily composed of keratin) to break down the hard shell & enzymes dissolve the keratinized layer. The beauty of this AHA is the ease of control and performance. 
Complete Guide is found in The Ritual and Guide Page
Ingredients: organic lemons (citric acid & malic acid), oranges (ascorbic acid), cane sugar (glycolic acid and lactic acid), maple (malic), bilberry (malic acid and citric acid) & cranberry (citric acid,  malic acid, tartaric and oxalic) containing naturally occurring alpha hydroxy acids (AHA).
---
Share this Product
---