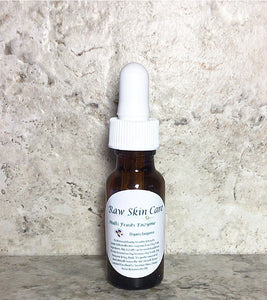 Raw Skin Care
Multi Fruit Organic Enzyme
Regular price
$35.00
$0.00
Unit price
per
"Raw Skin Care" offers Two Organic  Multi Fruit Professional Exfoliating liquid products. Both with their vital components to be active while gently releasing all the great benefits of the perfect exfoliation.
 Raw Skin Care Organic Liquid Multi-Fruit Exfoliants are made by extraction with organic grain alcohol and de-ionized water for natural plant extraction. Our Organic Grain Alcohol is part of the distillation of fruit processing and enhances the component properties of active energy, antiseptic purification and whole fruit tincture stability. They are for external use only and do not have an aroma, making them perfect for blending with our  "Natural and Organic "Fruit Enzyme Powders".
  Organic Multi-Fruit Enzyme Exfoliant and Organic Multi-Fruit AHA Exfoliant
Organic Multi Fruit Enzyme acts as a natural liquid enzyme, exfoliating dead and flaky skin cells. leaving the skin flake free and smooth.
Organic Multi-Fruits Enzyme is made from organic fruits that specifically enhanced with exfoliating properties. It can act as a booster mixing it with our plant fruit enzyme powders and is formulated with certified organic glycerin for a super humectant environment, leaving the skin hydrate. It is also wonderful also with light steam for a gentile exfoliation.

Complete Guide is found in The Ritual and Guide Page
Ingredients: Org. Carica papaya (Green Papaya) Extract, Org. Carica papaya (Papaya) Extract & Org. Ananas comosus (Pineapple) Extract & Org. Vegetable Glycerin
---
Share this Product
---