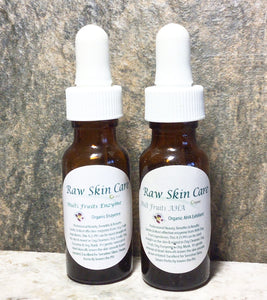 Raw Skin Care
Multi Fruits Collection Special
Regular price
$60.00
Sale price
$70.00
Unit price
per
"Raw Skin Care" offers Two Organic  Multi Fruit Professional Exfoliating liquid products. Both with their vital components to be active while gently releasing all the great benefits of the perfect exfoliation.
 Raw Skin Care Organic Liquid Multi-Fruit Exfoliants are made by extraction with organic grain alcohol and de-ionized water for natural plant extraction. Our Organic Grain Alcohol is part of the distillation of fruit processing and enhances the component properties of active energy, antiseptic purification and whole fruit tincture stability. They are for external use only and do not have an aroma, making them perfect for blending with our  "Natural and Organic "Fruit Enzyme Powders".
These two are a great pair that can be worked together in any facial by controlling the amount and desired results.
For slightly sensitive to dry skins: After deep cleansing apply the Multi Fruit Enzyme and then a gentle fruit enzyme of Perfect Comfort Mango Enzyme or Purely Bare Smoother mixed with Multi Fruits AHA.
For healthy dry Skin and Oilier Skins do the opposite: apply Multi Fruit AHA first and then  use the Complete Comfort Banana Mask mixed with Multi Fruits AHA.
The Purity Nourishment Strawberry and Golden Nourishment Enzymes are what we call a hotter mix, but its all about the skin you are working with. Here is where you can tailor your treatment for immediate needs.

Complete Guide is found in The Ritual and Guide Page
We love working with them together.
For a deeper PEEL use Emerald AHA Exfoliant.
---
Share this Product
---