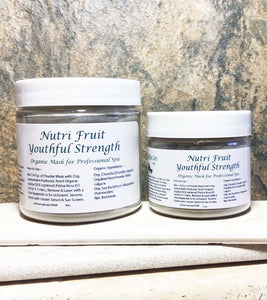 Raw Skin Care
Nutri Fruits Youth Strengthening Mask
Regular price
$30.00
$0.00
Unit price
per
Nutri Fruit "Youthful Strength" Mask combines the most effective and strengthening powdered herbs the earth provides us, that internally provide cell nutrition for strength and externally effective cellular nutrients and healing for combating and strengthening against all environmental and daily life aging factors.

Nutri Fruit "Youthful Strength" Mask herbs and flowers powerful action include:

Chlorella: Powerful Anti-Oxidative (Super Single Cell Micro-Algae),
Beet Root: Anti-Aging-Antioxidant

Sea Buck: Super Nutrient
Their Benefits Combined:
Repair Skin from stress factors that impact the skins ability to replenish resulting in visible effects of Pollution, Smoking, Poor Eating and Poor Grooming Habits.
Strengthening to rejuvenate and support fighting wrinkle
Action include the nutrient rich infusion of Vitamin E, Class/Super Antioxidants, and Complex Fatty Acids.
All this is in one mask that is powerfully perfect for Stress Skins, Skins that are hungry for Youthful Refinement and Skins wanting more Super Rich Anti-aging Nutrients.
Nutri Fruit "Youthful Strength" Mask additional Benefits are Anti-inflammation, Visible Healing, Rejuvenation, Softened Wrinkles, Omega Rich Skin Texture and an even skin tone with a hint of Pink
Nutri Fruit "Youthful Strength" Mask ingredients: Org. Chorella (Chorella rulgaris), Org.Beet Root Powder (Beta rulgaris), Org. Sea Buckthorn (Hippophae rhamnoides), Natural Bentonite Clay

---
Share this Product
---