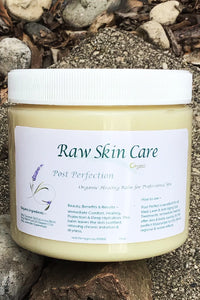 Raw Skin Care
Post Perfection
Regular price
$52.00
$0.00
Unit price
per
Post Perfection is  the most versatile balm that replaces all creams for healing the most reactive sensitive and dry skin. Including post reactive conditions caused to cosmeceutical treated and abrasively burned skins.
Used by many Med-spas and Day Spa Professionals, Post perfection has become a must have with both Professional 16oz. and Retail 2 oz. sizes.
In the Med-Spa:
Post Perfection is deeply soothing with intensely healing ingredients that relieve and refresh, while helping to rebuild back skin texture, allowing the cells to rejuvenate from Medi-spa laser, Microdermabrasion, Deep Peels Treatments and home care-daily application of topical peeling agents (like Renova, Glycolic and all Alpha Hydroxy Acids).
It's also the perfect base for injectable fillers for molding and finishing with hydration; and perfect for Botox type injections, along with Raw Skin Care Calendula Hydrosol, for anti- bacterial refreshment to soothe areas of treatment.
Laser, Microdermabrasion and Deep Peels leave the skin sensitive and needing intense hydration. Post Perfection after masking over any Raw Skin Care Organic Hydrosol (custom for the skin) refreshes, calms, locks in moisture and attacks inflammation.
 In the Day Spa:
Post Perfection is beyond perfect for dry to very dry skin. Often dry skin is sensitive from lack of attention, the right home care and change in weather or environment. A soothing replenishing creme for after Microdermabrasion and Spa peels of every type. Post Perfection is Highly Recommended for every skin exposed to sports environments, super dryness due to dry climates and environmental changes including Rosacea, Eczema, Psoriasis and Chemical Reaction Trauma.
With its benefits: Omegas 3, 6, 9, Vitamins and antioxidants, plus healing, and soothing properties the results leave the skin refreshed, soft, balanced and  less inflamed looking.
Post Perfect is one of our most celebrated healing balms from consumers and professionals.
---
Share this Product
---