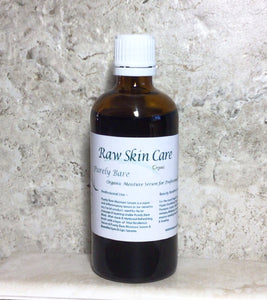 Raw Skin Care
Purely Bare Step 5 Pro Serum 4oz.
Regular price
$64.00
$0.00
Unit price
per
Purely Bare Organic Serum is formulated to heal, comfort and aid in controlling chronic skin diseases, daily reactive sensitivity from sun, allergies and trauma from medication, deep medical treatments and general product reactions.

Purely Bare Organic Serum has Super Comforting Properties to aid in inflammation control for Hyper Active Skins that never feel comfortable unless a layer of impenetrable "goo" is lathered. it is a very light oil serum and when applies after several mists of the Chamomile Toner the oil penetrates easily like a cream, but with out synthetic chemicals, color or fragrance.

benefits the most fragile and delicate Skins including:
Hyper-Sensitivity,
Dryness, Rosacea,
Eczema,
Psoriasis,
Lupus,
Adult Acne,
Stinging, burning, redness, flakiness,
Over-exfoliated, friction reactive, irritated, 
Anyone wanting the benefits of Soothing relief and healing
The entire Facial features are the pure simplicity of raw ingredients like organic jojoba oil to bring immediately relief and repairing anti-oxidants, plant oat bran to gently calm and comfort, and gentle sesame for anti-inflammation, all laced with organic chamomile.
Purely Bare Organic Serum with a light weight sunscreen, also protects the skin from airborne irritations when used daily

Experience: for the first time clients will experience a different kind of comfort because this serum works immediately without stinging or redness.

Full Ingredients: Org. Golden Jojoba (Simmondsia chinensis, Org. Unrefined Sesame (Sesame indicum), Natural Chamomile Blue (Matricaria Recutita)


We formulate for ease of beauty and simplicity for results.
This Serum has No fragrance, color, toxins or synthetics, it has just Pure Essential Plant Offerings.
---
Share this Product
---