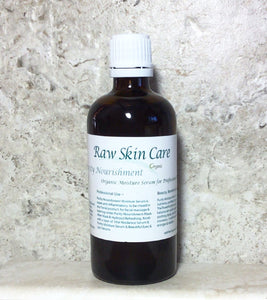 Raw Skin Care
Purity Nourishment Step 5 Pro Serum (Moisture) 4oz.
Regular price
$62.00
$0.00
Unit price
per
Purity Nourishment Organic Serum nurtures oily and problematic skins back to balance, by maintaining the elimination of bacteria, while aiding in faster healing and controlling oil production. For highly Infectious inflamed skin, we recommend Purely Bare Facials to de-flame Acne first or combining the two systems as to a recommendation by consultation.

Purity Nourishment 1oz Serum is made for skins that are continually breaking out including light acne in recurring areas, problematic teen acne, adult acne and combination skin with blackheads, whiteheads, breakouts, redness, inflammation, clogged pores and all skin's looking for seasonal purification. It helps protect skin and reduce visible shine, ease breakouts, and calms and reduces redness and inflammation acne and continual breakouts. It can be used in between other balancing facials as well to control skins condition.

Learn how to teach Clients how to apply OIl as a moisturizer  ASK US!

Results and benefits of this Facial and the Experience:
This treatment aids and healing more consistency then other acne peels with our drying and over medicating the fragile infection prone skin. This serum was made to compliment the actions of the Purity Nourishment Acne Purification System to highly control and kill bacteria with plant antiseptic properties. These light and healing plant organic oils keep skin from over producing sebum and keep nutrients to self-heal.

Purity Nourishment Organic Serum Ingredients: Organic Golden Jojoba Oil (Simmondsia chinensis), Organic Unrefined Sesame oil (Sesame indicum), Natural Ylang Ylang (Cananga odorata), Organic Patchouli (Pogostemon cablin), Organic Lemongrass (Cymbopogon flexuosus), Organic Rosemary (Rosmarinus officinalis)
Professional Purity Nourishment Comes in 2 Pro sizes (4 oz. and 2 oz.) with a Dropper for Facial application in Brown Frosted Bottles,  Retail Home care is comes in a 1oz. size and available in the Open stock Skin Care Catalogue.
---
Share this Product
---