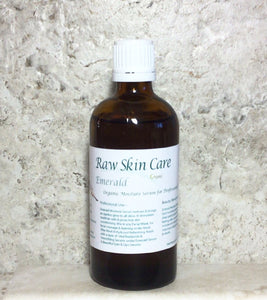 Raw Skin Care
Emerald Organic Step 6 Pro Nutri Serum (Moisture) 4oz.
Regular price
$68.00
$0.00
Unit price
per
Emerald Nutrient Moisture Serum is a wonderfully nutritious serum that feeds the skin with an array of plant nutrients, anti-oxidants and anti-inflammatory properties. It  leaves the skin feeling comfortable, smooth and protected with healthy organic nutrition.
This serum is for the most dry and hyper-sensitive skins. It has comforting needed plant oils and their properties, no color, no aroma and non synthetic chemicals, just pre virgin cold pressed plant fruit oil.

Emerald Organic Non Aroma pure Plant moisture Serum Ingredients properties:
Sunflower Oil – higher in Vit. E. than any other oil, supplements nutrition, high in oleic acids, Omega 6 and 9, relieves dryness and promotes tissue repair (especially beneficial for sensitive skin), and is a highly potent anti-oxidant with anti-aging action
Jojoba Oil – is the closest oil to human sebum; its properties balance oil production, softens, smooths and reduces fine lines; rich in vitamin E, C and B complex. Intense nutritional values strengthen skin's defenses, great anti-aging action while being comforting & balancing 
Flax-seed Oil – is super nutritious containing both Omega 3 and 6 fatty acids, alpha Linolenic acid, DHA (Docosahexanoic Acid) and is a great hydration for dry skin
Coconut Oil - promotes skin elasticity, anti-aging, moisturizing, hydrating anti-microbial and skin softening with high content of fatty acids  
Avocado Oil – is super anti-wrinkle action and whole skin nutrition with high Oleic and Essential Fatty Acids, Vitamins C and D, and Carotenoids and Lycopene making it wonderfully hydrating and rich in ways no other oil is!
Emerald Organic Serum Ingredients: Org. Sunflower (Helianthus annuus), Org. Jojoba(Simmondsia chinensis), Org. Flax-seed (Linum usitatissimum), Org. Coconut (Cocos nucifera),
Org. Avocado (Persea americana)
---
Share this Product
---