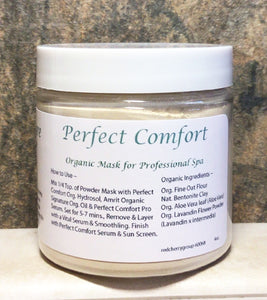 Raw Skin Care
Perfect Comfort Step 4 Pro Mask 2oz.
Regular price
$16.50
$0.00
Unit price
per
Perfect Comfort Mask
is skin that is congested from dryness and tends to be sensitive depending on hot dryness is not under control. It perfectly relieves dry skin's uncomfortable condition, while nourishing it back to normal and correcting mild sensitivities. 
Perfect Comfort Pro Mask Pro  is designed to relieve the skin of dryness and stress, soothe skin irritation, strengthen to build tolerance, purify and cleanse to encourage gentle stimulation and replenish trace minerals; leaving the skin in a healthier state and glowing with beauty. Wonderful to layer over Vital Replenish Serum.

Beauty, Benefits & Results include:

Relieve Congestion and Dehydration
Firming while sedating and nurtures cell action
Deeply purifying evenly toning skin
Leaves the Skin with a soft and brighter texture
Comfortably hydrated and freshens skin's vitality
Perfect Comfort Pro Mask
Ingredients: Org. Fine Oat Flour. Nat. Bentonite Clay
Org. Aloe Vera leaf (Aloe Vera), Org. Lavandin Flower Powder (Lavandin x intermedia)  
---
Share this Product
---