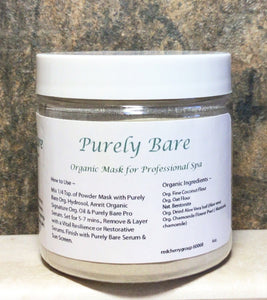 Raw Skin Care
Purely Bare Step 4 Pro Mask 2oz.
Regular price
$17.50
$0.00
Unit price
per
Purely Bare Pro Mask is wonderful for skins that are super reactive and never feel comfortable unless a layer of impenetrable "goo" is lathered every day.  This also the most wonderful treatment for services and at home, for skins that have been over exfoliated, medicine reactive and have a chronic disease like eczema etc.
Purely Bare Pro Mask organic simplicity is the formulation of comforting raw ingredients of Organic Coconut and Oat Flour, Bentonite Clay Organic Aloe Vera and Chamomile Flowers for the sole purpose to cleanse and de-flame adult Acne and Chronic Skin Diseases.

Purely Bare Facial is unique. It can be the Go to SOS facial for after an abrasive peel or anytime an inflamed skin is in a Chronic Hypersensitive State. Best preformed with cool water, Iced towels and Lymphatic Drainage Touch. Plus layer over Vital Resilience Serum rich in Rooibos to strengthen skin's resistance to react.

Best Skin Candidates are:
Adult Acne
Rosacea
Eczema
Psoriasis
Inflammation
Hyper-Sensitivity
Purely Bare Pro Mask Ingredients: Org. Fine Coconut Flour, Org. Oat Flour, Nat. Bentonite, Org. Dried Aloe Vera leaf (Aloe vera), Org. Chamomile Flower Powder (Matricaria chamomile)

---
Share this Product
---